| | | |
| --- | --- | --- |
| | | |
LES ALOUETTES DE BAGOTVILLE
No.425 SQUADRON : IMPLEMENTING CANADA's NEW DEFENCE VISION
Nowadays Canada's Air Force is facing one of its most important challenges in its post-WorldWar II existence. For decades Canada and its Air Force was focussed –as an ardent NATO-member- on defending Western-Europe, by stationing well-equipped fighter-squadrons in West-Germany and sending additional combat squadrons to northern Europe in events of crisis or war. After the collapse of the Cold War and the inevitable over-enthusiastic cuts in military spending in the Western world during the « stressless » nineties, the Canadian Armed Forces (incl. Air Force) reached its critical mass, saddled up with oversized dollar-sucking outdated infrastructure, outflow of (experienced) personnel and ageing aircraft and helicopters.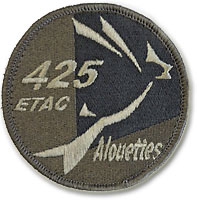 September 11, 2001 dramatically changed the world's and Canada's opinion on national safety and international security. Its threat-analysis traditionally ColdWar-related and caught by surprise by the impact of 9/11, Canada had also to quickly and firmly respond to demands from the United States of America to bolster and upload NORAD capabilities to defend Northern American against possible (terrorist) threats. Created in 1957 this North America Aerospace Defence Command evolved from a simple but vital response to the Soviet nuclear bomber threat to a more dynamic partnership handling multiple threats, ranging from airline hijacking, ballistic missiles attack warnings to space-satellites monitoring. With the bi-national NORAD-agreement due for renewal in May 2006, Canada and its Armed Forces needed to re-adjust their policy and vision not to jeopardize vital military cross-border cooperation by expanding NORAD's air defence orientated profile to maritime surveillance and ground-based ballistic missile defence operations. A unilateral –even temporarily- border-closure by the US in reaction or anticipation of a possible 9/11-type event would have a tremendous negative impact on Canada's export-orientated economy.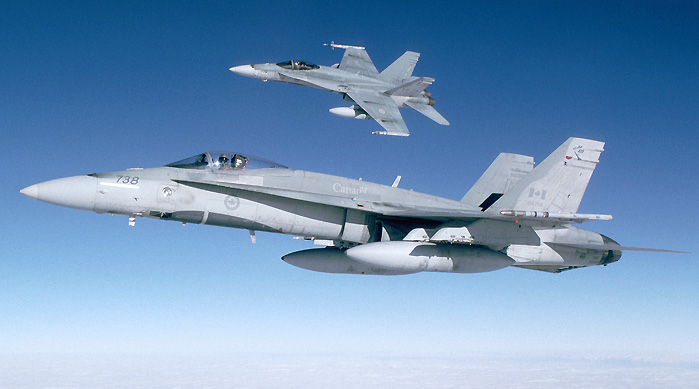 Step-by-step planning and sound forward thinking enabled Canada's Air Force to develop and gradually implement an innovative all-aspect transformation. Based on this official AirForce vision « the Air Force will be transformed into an expeditionary, network-enabled, capability-based and results-focused aerospace force that will effectively contribute to security at home and abroad ». At the same time the Canadian Government decided –
for the first time in years- to raise defence spending within the Federal Budget, enabling recruitment of additional personnel and some much-needed hardware replacements and updates.

With the defence of Canada and its inhabitants as primary concern, a new joint-forces military command –Canada Command (aka. CanadaCom) was created at Ottawa to handle domistic operations, including search-and-rescue, disaster relief and more importantly anti-terrorism.To boost « Homeland Defence » capabilities, new aerial and seaborne surveillance soft- and hardware (UAV"s and CP-140A Aurora update) were rushed into operational service. Simultaneously a new CF Aerospace Warfare Centre (CFAWC) was established at Trenton (Ontario). This centre, initially staffed by experienced personnel drawn for various operational frontline units, will focus on doctrine development and will guide, streamline and evaluate the AirForce's ongoing Ftransformation. The influx of experienced personnal from the various frontline units forced the Department of Defence (DND) to merge several individual CF-18 Hornet, CP-140 Aurora and CC-130 Hercules units into larger fighter maritime patrol or transport squadrons.
Finally, this new ambitious Defence Policy emphasizes deployability (within Canada and 'out of area') and responsiveness as key elements. The Canadian Forces (Army, Navy and Air Force) need to be able to get personnel and hardware where and when they are needed to protect Canada's interests.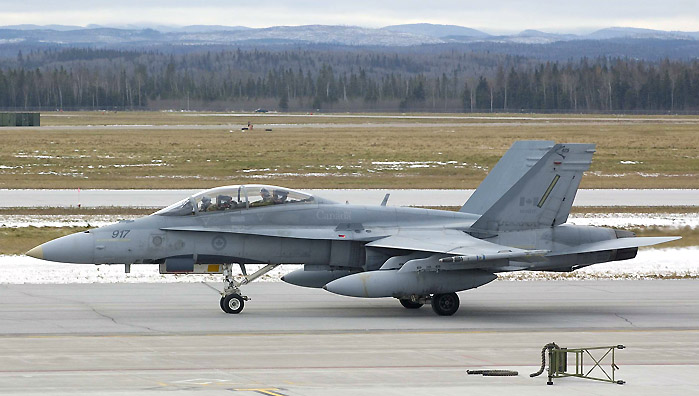 One of the first frontline units to start the implementation of the AirForce's new vision and self-imposed mission statements is No.425 (Alouette) ETAC (Escadron Tactique de Chasse or Tactical Fighter squadron), based at CFB Bagotville (Quebec) and flying the recently updated CF-18 Hornet fighter-aircraft. This Hornet 'super-squadron', merged in July 2005 with the co-located No.433 ETAC, is not only responsible within NORAD for the air-defence of eastern Canada (and United States), but is also assigned to Canada's Expeditionary Forces, planning possible future deployment to Afghanistan.
Faced with this vast but vital operational workload, the internal transformation of No.425 squadron may well be a testcase for the implementation and overall success of CF's AirForce Vision.
425 squadron : CFB BAGOTVILLE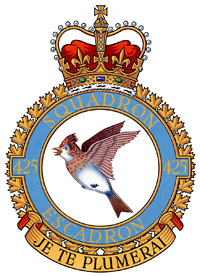 Since the reception of its first CF-18 Hornet fighter bombers in April 1985, No.425 squadron, previously flying CF-101 Voodoo interceptors, re-roled itself from a pure NORAD-assigned air-defence/interception unit to a multirole fighter-bomber squadron based at CFB Bagotville in Canada's Quebec-province. Located in a remote part of this French-speaking Province, No.425 squadron joined No.433 (Porcupine) squadron as part of No. 3 Wing. This squadron, receiving its CF-18's in December 1987 as a replacement of its obsolete CF-116 (aka CF-5) Freedom Fighters, was assigned to NATO and would deploy to Norway in event of tension in Western-Europe.

Since becoming fully operational on the new McDonnellDouglas-St.Louis built CF-18 Hornets, both independent squadrons would 'staff' the Bagotville-based NORAD-"quick reaction area" and occasionally intercept Soviet Tu-95 "Bear" long-range bombers on 'Cold War' patrol to Cuba. The withdrawal and deactivation of the Germany-based CF-18 squadrons after the closure of CFB Baden-Sollingen in 1993, enabled both squadrons to integrate experienced "expat" CF-18 pilots in their ranks, some of them having gained precious operational experience during the Desert Storm war over Kuwait and Iraq. In 1999 'Bagotville'-pilots also participated in NATO's Operational 'Allied Force' (aka. Operation Friction in CF-jargon) over Serbia and Kosovo, operating out of Aviano AB, located north of Venice (Italy). Once returned to Bagotville, both squadrons quickly resumed their day-to-day flying operations. From time to time, both squadrons would deploy to their "Deploying Operating Base" at CFB GooseBay (Labrador) and their "Forward Operating Locations" at Iqualuit in the NorthWestTerritories in northern ("artic") Canada. These artic FOLS (Inuvik, Rankin Inlet, Yellowknife and Iqualuit) are well-equipped with operational infrastructure (drive-through aircraft hangars) to house CF-fighter squadrons during exercises or crisis-situation 'up north'. All 'Western' artic FOLS (Inuvik, Rankin Inlet and Yellowknife) are traditionally assigned to No.4th Wing at CFB Cold Lake (Alberta), homebase of CF's two remaining operational CF-18 units (No.416 and 441 squadron). Furthermore CFB Cold Lake houses also CF's dedicated CF-18 conversion unit (No.410) and AETE test- and evaluation unit.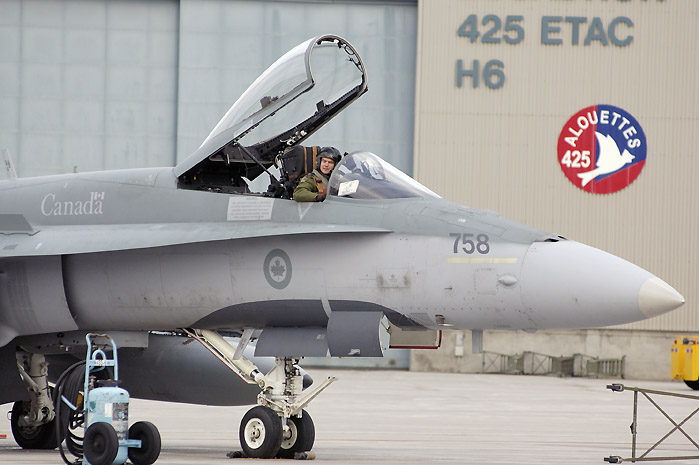 The implosion of the Soviet Union and its armed forces, the vanishing threat of Soviet-bombers, frequently harassing CF and NORAD air defence forces, influenced No.3th Wing's operational workload during the nineties. At the same time both squadrons needed to retain their operational capabilities with ever decreasing financial defence budgets.
The horrendous events of September 11, 2001 not only shocked the world but also Canada's Air Force community. Within hours, NORAD aerospace control contingency plans were put into effect. As a direct response six fully-armed CF-18 Hornets of No.425 squadron were dispatched to CFB Greenwood (NovaScotia) to patrol the aerial east-coast approaches to North America. Additional Bagotville CF-18's were put on alert at their homebase and CFB GooseBay (Labrador). The CFB Cold Lake squadrons were sent to Western Canada (esp. CFB Comox near Vancouver) to monitor the western aerial approaches to North America. Since September 2001, several CF-18's are still launched daily to patrol western Canada. Although its nature and exact mission-profile (incl.maximum reaction time) remain –understandably- highly classified, the concentration of the country's vital economical and political installations and urban areas, boarding the St.Lawrence river and the GreatLakes may well justify these daily patrol flights. Until recently, these 'QRA-birds' were also launched during weekends. A few months ago, the CFB GooseBay Hornet-QRA, staffed by 'Bagotville'-pilots was deactivated pending immediate re-activation if necessary.
IMPLEMENTATION OF CANADA'S AIR FORCE VISION…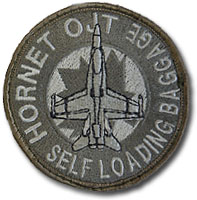 As already mentioned, Canada's Air Force started mid-2005 an ambitious transformation focused on an improved ability to react to suddenly emerging threats, both within its national borders and abroad. Since surveillance, air defence and deployability are key factors to achieve this transformation, the Canadian Minister of Defence decided to merge several AirForce squadrons to achieve organisational and operational benefits of scale. Two CP-140A Aurora maritime-patrol squadrons (No.415 and No.405) at CFB Greenwood, two CC-130E/H transport-squadrons (No.429 and No.436) were forced to merge. At CFB Bagotville No.433 squadron, being activated 13 months later in 1943 than its Bagotville-sister unit, was consolidated into No.425 squadron on 15/07/2005. A similar –but not enforcing- request to merge two CF-18 squadrons was sent to No.4th Wing at CFB Cold Lake. Willing to closely monitor the squadron-merger at CFB Bagotville prior to start its own in-house reorganisation, No.4th Wing decided to postpone the consolidation of its two operational CF-18 squadrons.
Fortunately this Bagotville-merger didn't trigger a decrease in number of aircraft, pilots and flight time allocated to No.3th Wing. Faced with two mostly 'undermanned' squadrons, the decision to merge all 'airborne' assets not only allowed the Wing to re-group all available personnel but also achieve an increased productivity and aircraft availability.
Staffed by twenty-four operational CF-18 pilots, originating from both previous squadrons, this 'new' No.425 Alouette (super)squadron is responsible for the air defence of Canada. Secondly the units needs to be capable to send –within a short notice- two deployable 'six packs' (i.e. six CF-18's and 12 pilots) to an out-of-area location to safeguard Canada's interests abroad. Although a far cry from the two deployable CF-18 wings, envisaged by the Government's 1994 White Paper, the improved operational capabilities of the recently updated CF-18's, capable of using "smart" bombs, should compensate for the decreasing number of available aircraft. With no formal governmental and political decision taken until now, the DND has already tested various deployability- and staff-scenario's to deploy additional military 'assets' to Afghanistan in support of CF's "Task Force Afghanistan"'. If sent to Afghanistan the Canadian CF-18 Hornets and their aircrew will most likely be based at Kandahar Airfield in southern Afghanistan.

In line with Canada's AirForce vision-statements, the 'merged' and fully-staffed No.425 squadron decided to focus itself from the start on its operational core-businesses : air-defence and deployability. All non-operational second-line operations and missions were 'outsourced' to special-purpose units, created within No.3 Wing. The operational training of new CF-18 pilots, type-rated by the CFB Cold Lake-based No.410 squadron, is organised by the new CEAC/Centre d'Entrainement Apte au Combat (Combat Ready Training Unit), staffed by –if needed- 4-6 instructors. During four to six months, students will receive an advanced CF-18 combat ready training syllabus (incl.air/ground and air/air tactics, NORAD-procedures and air/air refuelling) before being integrated in No.425 squadron.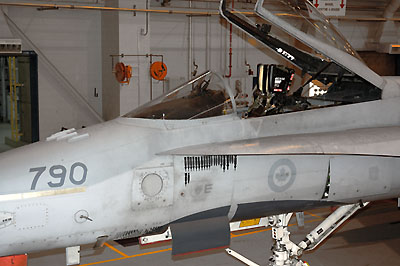 As multirole fighter-bomber unit, the squadron flies on average 60% of its missions for air/ground training over Quebec. The introduction of the new updated CF-18 Hornets enabled the squadron to relinquish its low level attack mission and to shift to medium level attacks, using the aircraft's capabilities to drop smart bombs. Nowadays low level awareness training is mostly flown in the flight simulator at Bagotville. A familiarisation flight at low level altitude is flown in a dual aircraft with an experienced ETAC-instructor or squadron-pilot in the backseat. Academic air/ground gunnery missions are flown to the nearby Valcartier Army gunnery range or similar ranges near Petawawa (Ontario) or Gagetown (NewBrunswick).
Early September 2005, No.425 squadron hosted a bi-national large-force employment exercise at CFB Bagotville. During four days, No.425' CF-18's trained various air defence scenarios with six USANG F-16C Fighting Falcon (Vermont ANG), four F-15C Eagle (Massachusetts ANG), two A-10 Thunderbolt II (Connecticut), three KC-135E (Maine ANG) and a NATO E-3B AWACS-aircraft. Several missions included twelve fighter aircraft 'countering' simulated attacks of six 'enemy' aircraft. Every year the entire squadron deploys to CFB Cold Lake to participate in the wellknown and very realistic multinational "Maple Flag" exercises, attended by a large number of European air forces and Canadian and American squadrons.
To finetune its air/air training, No.425 squadron annually –esp.during the harsh Quebec-winter months- deploys to the United States to train with various USAF, US Navy and/or AirForceReserve-units. In December 2005 the unit "migrated" to E
glin AB (Florida) to fly "Alouette Mobile" DACT (Dissimilar Air Combat Training) missions with local F-15C Eagle of the 33rd FW and F-16C Fighting Falcons of the co-located 85th Test Squadron/53rd Wing. In February 2006 No.425 squadron will participate in a large-scale air-defence exercise at Homestead AB (Florida), homebase of 93rd "Makos" FS / 482nd Figher wing (AFRC). During this "Chumex 2006" exercise, the CF-18 aircrew will train with the local AirForceReserve F-16C pilots, joined by USMC AV-8B Harriers (MCAS CherryPoint) and F-15C Eagles from Tyndall AB. A similar "Combat Archer" deployment to Tyndall in 2005 enabled the Bagotville-pilots to shoot their AIM-7F Sparrow and AIM-9P Sidewinder at unmanned BQM-34A drones over the Gulf of Mexico.
Finally before its possible deployment to Kandahar, the squadron will participate in NATO's multinational "Brilliant Arrow 2006" exercise, operating out of Skrydstrup air base in southern Denmark. Since CF's own strategic Airbus CC-150 Polaris tankers of CFB Trenton (Ontario)-based No.437 squadron are still under modification, No.425 squadron frequently trains with and uses KC-135E tankers of the 101st "Maineiacs" Air Refuelling Wing / Maine ANG,
based at "nearby" Bangor IAP for air/air refuelling during training and transatlantic ferry flights.
Similar to other CF units, No.425 squadron is staffed by a number of foreign exchange pilots. For a few months now, an USAF F-16C pilot and RAF's Fl.Lt. Dan "Dingle" Ingall, a 33 year-old experienced No.6 squadron/RAF Jaguar-pilot and qualified weapons instructor originating from Warwickshire (UK), are integrated as operational pilots in the unit. Operating within a mutual "full access – no disclosure" agreement with the Royal Air Force (or other air forces), Dan Ingall –and all non-American exchange pilots- is not allowed to become familiar with prevailing NORAD-procedures, also preventing piloting QRA-Hornets under NORAD-control. In contrast, American and Canadian exchange pilots are allowed to man European QRA-fighter aircraft while on exchange-tour with various European NATO-air forces. One of No.425 squadron pilots started his military pilot-career as an operational F-16AM (MidLifeUpdate) Fighting Falcon pilot with the Dutch Koninklijke Luchtmacht.
Sent to CFB Bagotville as Dutch exchange pilot in 1999, he selected to stay in Canada at the end of his exchange tour, coinciding with the end of this air force contract with the Koninklijke Luchtmacht. Having received a similar contract with the Canadian Armed Forces, he nowadays is one of the most experienced pilots in No.425 squadron.

During standard air/air training, all Hornet-aircraft are equipped with American/Swiss-designed MUTACTS air-combatinstrumentation pods, enabling detailed and visual debriefing by all participants minutes after landing.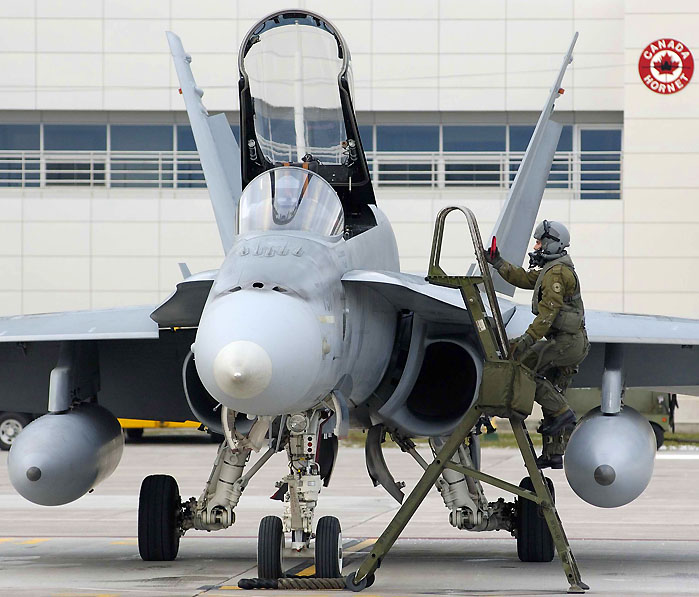 This MUTACTS (Memory Unit Tactical Air Crew Training System), also in use by the US Navy, Finnish and Royal Malaysian Air Force, provides accurate reconstruction of complex CF-18 Hornet training sorties without the need for an instrumented range or any additional equipment on the aircraft
On occasion, No.425 squadron also trains with Canadian naval forces and CP-140 maritime patrol aircraft. Operating out of CFB Greenwood, eastcoast homebase of CF's Aurora MPA-fleet, CF-18 fly escort-missions with the Aurora MPA's during joint exercises with Navy destroyers and/or frigates. One of the more "elusive" naval support missions is flown by the squadron after a retrofit of the Navy's surface vessels. To certify the retrofit, CF-18's of No.425 "zoom" at supersonic speed over the Navy vessels for the 'obligatory' post-retrofit acceptance hulk-shakedown.
CF-18 HORNET UPGRADE
To successfully perform this multitude of missions within an AirForce in full transformation, No.425 squadron nowadays operates a mix of 'old' CF-18 and recently updated CF-18 Hornet fighters.
Out of 138 CF-18 Hornet aircraft, initially purchased in the early-eighties, 121 airframes remain in service. Only 92 Hornets will be kept in operational service until the termination of Phase 1 of the update-programme, planned in 2006. This 2.6 mio CAD$ update-contract, awarded in 2001 to Boeing, involves the indepth multi-phased update of eighty airframes to F-18C/D standard, based on the 'US Navy Engineering Change Proposal" (ECP-583). The remaining redundant and unmodified aircraft will be used for spare-parts or offered for sale to other air forces.
The first updated CF-18, modified as a subcontractor by the Montreal-Mirabel based L-3 MAS (Military Aviation Services) company, was delivered to No.441 squadron at CFB Cold Lake in 2003. The first phase of this CF-18 modernisation included the installation of AN/APX-111 IFF, more capable AN/APG-73 radar, two HaveQuick radios and embedded GPS/inertial navigation systems and the capability to fire AMRAAM BVR (Beyond Visual Range) active-radar guided missiles. Officially still known as 'ECP 583 CF-18's, the Air Force Command preferred to start equipping all frontline units at the same time with updated CF-18's. The first aircraft were delivered to No.416 and 441 at CFB Cold Lake, soon to be followed by No.425 and 433 squadron and finally (and surprisingly) to No.410 squadron, being the CF-18 conversion unit. Since both 'variants' have identical aerodynamical and pilot-input characteristics, it was not necessary to send experienced CF-18 pilots to No.410 for re-orientation on the new ECP583-aircraft before the reception of updated Hornets to the frontline squadrons.
With more updated CF-18's Hornets arriving at CFB Bagotville, the CEAC is nowadays exclusively instructing 'freshman' CF-18 pilots on the ECP-583 aircraft. On 06/01/2005, the 40th updated CF-18 Hornet was delivered to the Canadian Armed Forces in anticipation of the financial 'kick off' on 18/02/2005 of Phase II of the CF-18 update programme.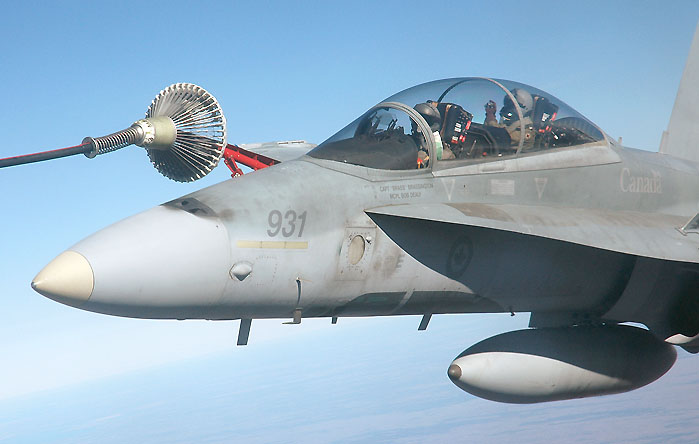 This Phase II, to start in June 2006 and be completed in 2009, will see the integration of the –nowadays omnipresent- Link 16 secure communication link and new coloured cockpit displays. The Link 16 will enable the aircrew to stay in constant contact with other aircraft, ground stations and/or AWACS-aircraft and will hugely improve the combat situation awareness of its pilot. The introduction of a helmet-mounted optical sight system will enable the pilot to visual monitor its ta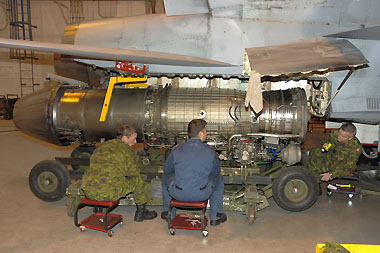 rget without having to look down for vital targeting information. During Phase II, the CF-18 cockpit will be modified to become NVG (Night Vision Goggles) capable, greatly enhancing the aircraft and pilot nightflying and –attack capabilities. In July 2005, test-pilots of AETE deployed to British Colombia to test the use and flight safety impact of the CF-18 NVG's.

In addition to this ECP-583 update programme, the CF is nowadays studying the purchase a more advanced thermal targeting pod to replace the ageing Nighthawk-day/nighttime pods and precision guided munition (Joint Direct Attack Munition/JDAM and/or Joint Stand-off Weapon/JSOW weapons). The CF are planning to buy up to fifty new targeting pods by 2006, under the Advanced Multi-Role InfraRed Sensor (AMIRS) project. Main contenders will be the wellknown Litening-AT advanced targeting system, PANTERA (Precision Attack, Navigation and Targeting with Extended Range Acquisition) and –finally- the Advanced Targeting FLIR (ATFLIR—systems. At this moment the CF is still marketed by Taurus Systems (Germany) for buying the KEPD 350 long-range (up to 350 km) air-to-surface missiles, already selected by the Spanish Ejercito del Aire to arm their EF-18 Hornets and later on Typhoon fourth generation fighters. The CF recently decided not to procure new ASRAAM short-range infra-red air-to-air missiles due to their high price and development costs.

To optimize operational training on the new CF-18 Hornets, the Department of National Defence (DND) purchased six Bombardier CF-18 "Advanced Distributed Combat Training Systems" (ADCTS), to be installed at CFB Cold Lake and CFB Bagotville. This ADCTS, valued 270 mio CAD$, implements a system of networked CF-18 cockpits at ColdLake (Alberta) and Bagotville (Quebec). Being able to detect each other visually on the simulator-screens and electronically by radar, team training between the various squadrons, physically located at a great distance, is made possible within a 'simulated', complex but realistic operational environment. Furthermore to improve the training value of these high-tech simulation systems, ADCTS can be linked to similar Navy and Army –and even US-based military- simulators for joint training, at a 'marginal' overall cost.
Once the Phase II ECP-583 CF-18 in full-operational service, from 2009 on, the CF will have (most likely) two fully operational CF-18 squadrons at CFB Bagotville and Cold Lake fulfilling with success its multitude of missions to defend Canada and the countries (overseas) interest.
Being at the forefront of Canada's Air Force's ambitious transformation, No.425 (Alouette) squadron will most likely be highly involved in accomplishing the new AirForceVision and performing its missions for years to come.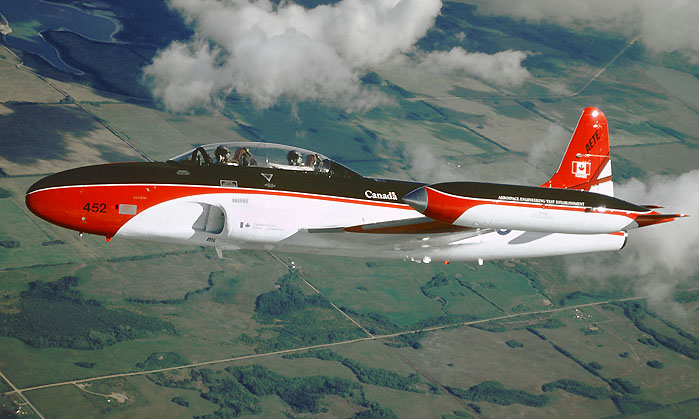 © Stefan DEGRAEF / Edwin BORREMANS