FLY ME TO THE DUNE
Text by Laurence Akers editor of Nikon Pro magazine winter 2009
For Edwin Borremans and Stefan Degraef taking air-to-air photographs is more Mission Impossible than Top Gun.
Picture the scene. You're hurtling skywards pulling 5Gs trying not to pass out because all the blood has rushed from your head, your camera suddenly weighs five times what it should. Even if you could lift it to your head, your oxygen mask means you won't get the eyepiece to your eye. Given these working conditions it's amazing that fast jet air-to-air photographers Edwin & Stefan gets any pictures at all.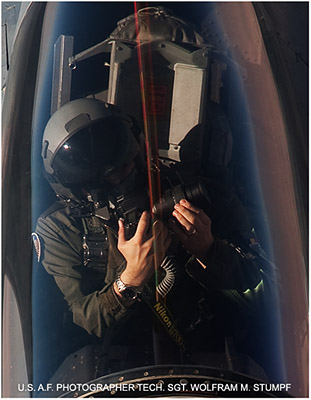 'Taking the pictures is the 'easy' part of the job' , they say. 'Getting a backseat ride in a military fast jet is something else. In most cases our photo missions are not dedicated photo flights !'
Borremans passion for aircraft started when his grandfather took him to Kleine Brogel Air Base Belgium when he was 12, he saw his first F-16 and fell in love. Frustrated by the lack of close contact with the mighty aircraft, he started a career as a photographer specialising in aviation and eventually added journalism to the mix.
His first fast jet shoot was with the Turkish Stars flying display team in an F-5 jet. 'That was a tough flight' ,he explains.
'At that time I still worked with my old Nikon F-801s + 28-70mm and with Kodachrome 25 !' 'It's an easy flight, assured my pilot, only 2G max.' 'Afterwards the G-meter was standig at 7G, I spoke to my partner Stefan and said 'if it's always going to be like this, i'm going to quit'. But when I saw my pictures I thought they were incredible so I decided to stick at it'.
The two now run the military aviation press company TrueBlueAviaPressand are among the few civilians in the world who regularly fly backseat with military jets.

The main problem the duo encounters is space. Once they're in the cockpit there's little or no room to move around let alone change lenses. As Borremans explains.
'I just hold the camera between my legs, I have one 16mm and a 24-85mm small zoom because you can't work with a bigger zoom in the cockpit, due it's size, weight etc. I sometimes try to take video camera up with me, but unless your're in an American jet there just isn't room.'
Above the clouds in the brilliant sunshine, the LCD monitor is barely visible so Borremans uses a right-angle viewer attached to the viewfinder so he can get the camera close to his eye without hitting his oxygen mask.
'It gives you some great unusual angles to shoot from without tying yourself in a knot'.
The duo only switched to digital a couple of years ago, predominantly to improve their workflow. They starting with a Nikon D70, 'because of the weight' but soon progressed from the moment of it's conceptions to the full-frame glory of the Nikon D700, which helped captures these amazing images of the Royal Bahraini Air Force.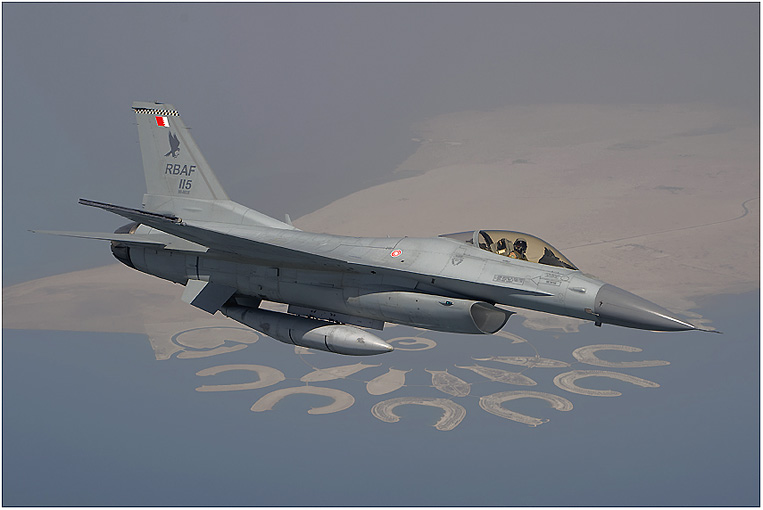 'It's very rare for them to allow any outsiders in ' explains Borremans. But we convinced them to take us up for an article about their fighter wing at Isa Air Base.' The base is located on the 240-square mile Island nations of Bahrain, situated in the south on the shore of the Arabian Gulf. 'It's not until you off
you realise what a small island it is but it's getting bigger by the minute. Like Dubai, they've even started to construct their onw islands. You can see them in the picture behind the F-16 in shape of a fish.
So with all the ups and downs and barrel rolls, has Borremans ever had to reach for the sick bag? '
Knock on wood, I've never thrown up', he says. ' But I've come close. Really close '